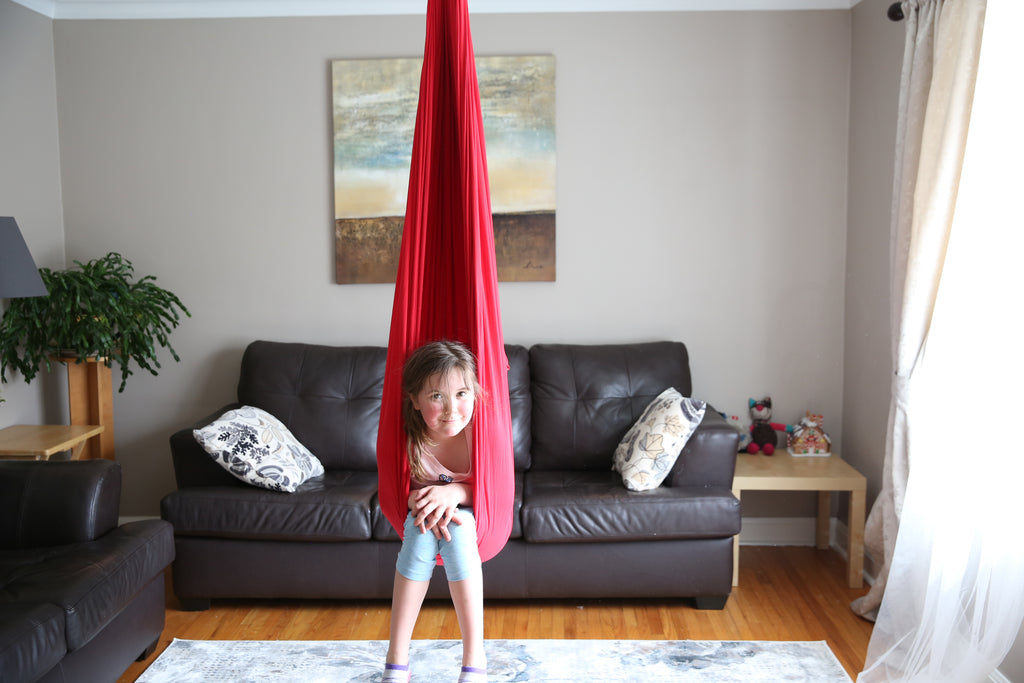 The holiday season can be a stressful time, this year more than ever, many of us are in Covid lockdown and limited to family visits and activities to attend during this period. Finding the perfect gift for kids is a challenge too, especially if you have a child with autism. As a parent you want to buy your child a special gift that your child can enjoy. Calming gifts can be an excellent choice for your child and they can experience the benefits from this gift now, all year round and many years to follow. In fact it's a win-win for everyone; a calm child can make it easier for the whole family.
DreamGYM has the perfect gift guide:
1. DreamGYM Therapy Net Swing is the perfect refuge for anybody from children to adults. Hovering and calm it offers relaxation and stimulates imagination. (Available colours include rainbow, sky blue, soft beige and cozy brown)

2. DreamGYM Sensory Swing. This cuddle swing is a very simple device, four-way stretchable fabric squishes the child inside and rocks them back and forth, up and down. It is recommended by occupational therapists and can be used for home therapy. (Available in red and blue)

3. If you don't have a big space at home. DreamGYM doorway swings are a great solution for any space big or small. Kids will be entertained for hours. The doorway bar holds the Therapy Net Swing or Sensory Swing.

4. DreamGYM bar accessories can also be an ideal gift, there are gymnastic rings, rope ladder and a belt swing to add to the amusement for the whole family.
All swings and accessories are made of the best quality materials and come with easy to install instructions. Available through Amazon, KidsDreamGYM website and a new pickup location in Toronto. We pride ourselves with offering a superior product that is safe and easy to use. 
Whatever the holidays look like for you this year, we wish you a happy, peaceful, healthy and safe celebration!