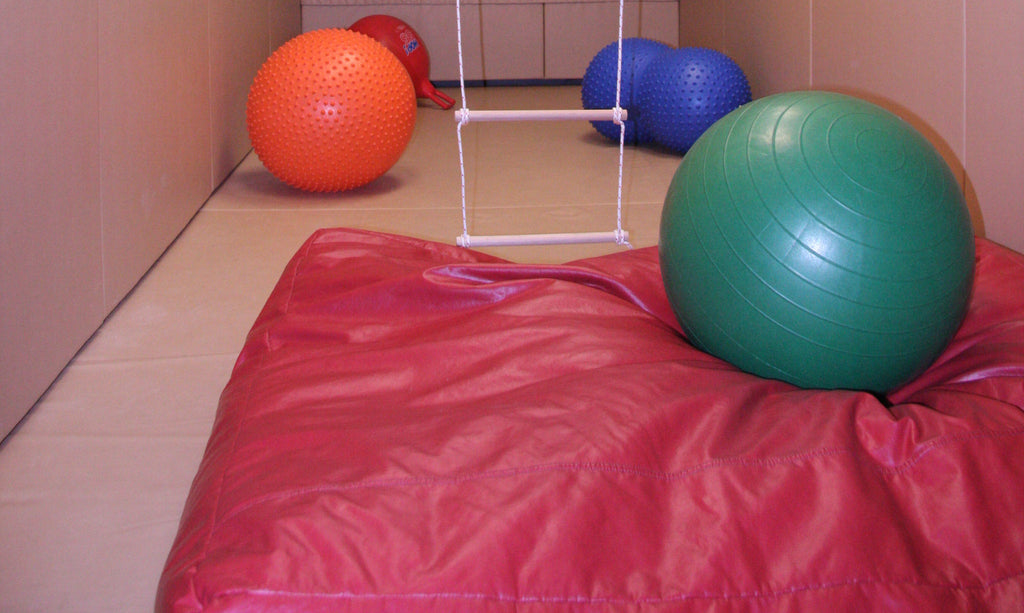 Protective surfacing is intended to cushion falls and prevent serious injuries from any children gym used indoors and outdoors. The amount of a consistent type of surfacing required is based on the critical height or fall height of the equipment, which is the height of the highest designated play surface on the equipment.  Common indoor surfaces (such as rugs, tumbling mates, or carpet) are not adequate cushioning for gross motor equipment with a fall height greater than 18 inches even. The following information has been extracted from the website www.safekidscanada.ca (section "For Parents – Safety Information by Topic – Playground Safety – Design and Surfacing).  There are currently no Canadian standards or guidelines for indoor playground surfacing. Ideally, the best surfacing would be material that was tested for use under play equipment, such as the rubber-like tiles designed for outdoor playgrounds. There is only a small amount of research available on indoor surfacing, but it points to some suggestions on what kind of surface material can (and cannot) be used indoors to cushion children's falls.
Dense foam mats and interlocking foam tiles: One Canadian study found that dense foam mats (1¼ inch or 3 centimetres thick) adequately cushioned falls of 6 feet (1.8 metres). Interlocking foam tiles (such as those found in building centres or toy stores) were found not to be safe for heights of 3 feet (0.9 metres), but when double-layered did cushion falls of 4 feet (1.2 metres). These tiles measure 2x2 feet (0.6 metres x 0.6 metres) and are 5/8 inches (1.5 centimetres) thick. Therefore, two layers of tiles will create a surface similar to the dense foam mats.
Gymnastics mats: Two studies have tested gym mats and found that if mats are at least 4 inches (10 centimetres) thick, they can cushion falls of 3 feet (0.9 metres). Six-inch (15 centimetres) mats can be safe for falls of 6 feet (1.8 metres). Unfortunately, such thick mats create an unstable base for children's climbing equipment and increase the risk of equipment tipping over.
Carpet, safety floor tiles, and resting mats: None of these materials provide adequate protection against head injury, even for falls of just one foot (0.3 metres), according to a US study that tested 24 samples of surfacing materials being used under indoor play equipment at childcare centres.